Part 2 welcome back, So the day had arrived for us to view some properties around the town, we met with the agent and started to walk through the streets taking in the views, once at the properties we were shown in sometimes with the owner present other times without, I was amazed how much each property varied in size and style, once through the door some were very modern inside others had kept their rustic charm, there are a few things to consider when viewing properties, some come with land and some do not, some have a view other not so much, we would all like our own garden full of olive trees but will you want the work that comes with maintaining and caring for them? we did see properties with great amounts of land but for us we wanted a place we could go to and relax with out the added stress involved.
Many houses come with cantenia's which are mainly used for storage, these are sometimes very large spaces and do offer a wide range of possibilities but normally require a lot of work to get habbital, again this is something to look at regarding time /cost. we loved walking round each property obviously some appealed to us more than others but generally it was down to location, general condition and of course price although this can be very negotiable and it is worth seeing how long the property has been on the market.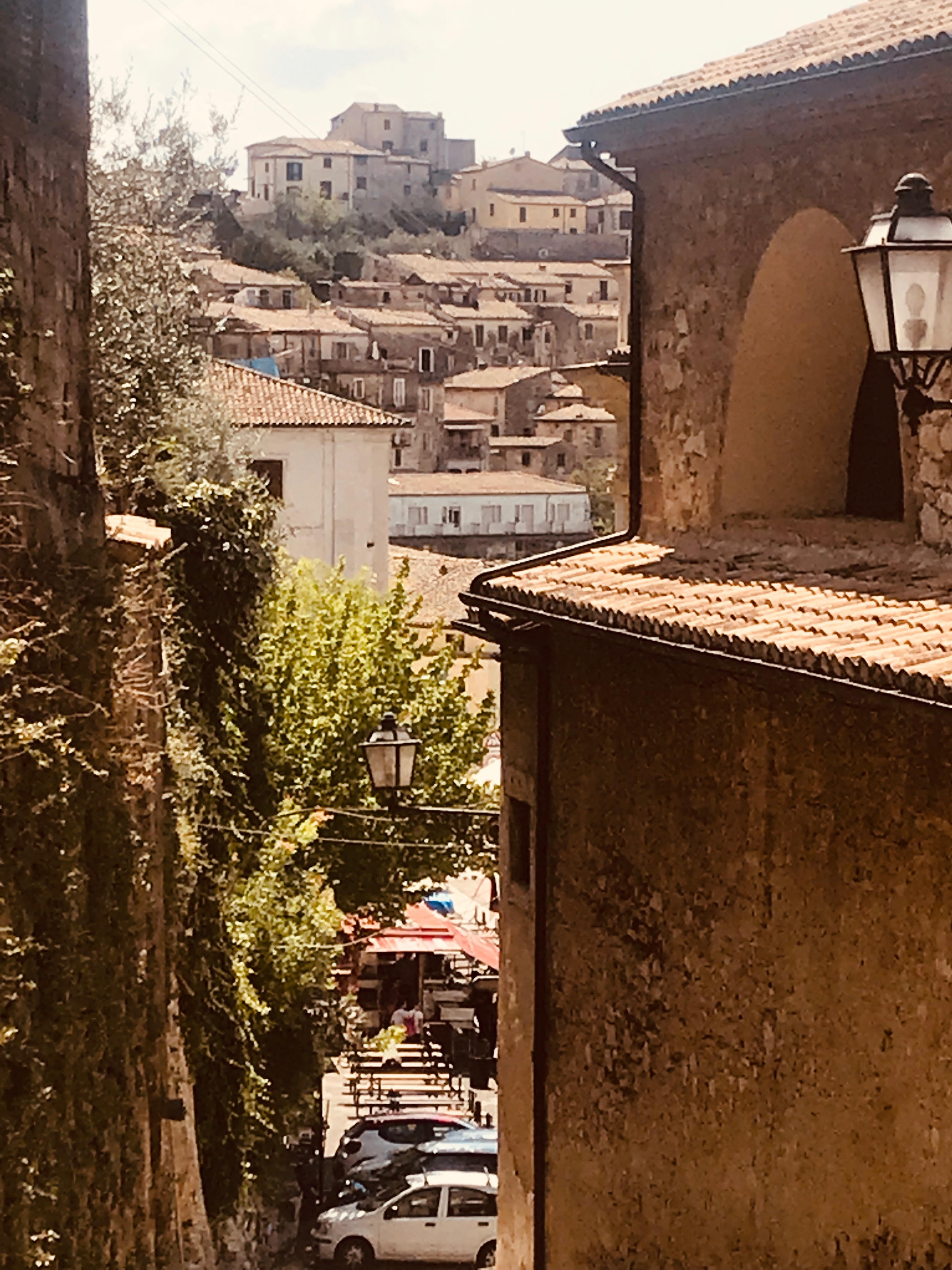 accessiblaty is another thing to take in to consideration, If you are coming to Arpino dust off your walking shoes, being a hill side town there are some steep hills at my age 31 its not to much of a problem but combined with the lovley hot weather it could be a challenge for older people staying or coming to visit. (you could use this to your advantage 🙂
There are some great apartments as well as full houses so make sure you explore all areas and get down the little side streets you could be missing a Bargin! your looking for that magic word VENDE.
Eventually after a short break in a coffee shop we started the second half of the day and now had an idea of what we were looking for, we then viewed a house and as soon as we walked in the door I loved the layout and the open space this carried on through the property, it ticked all the boxes, enough bedrooms, bathrooms, location was great and the house didn't need much doing to it at all mainly some personalizing. After we left we viewed a few more places but in my mind  it was the one to beat, once all the views were complete our agent sent us a brochure of all the properties we had viewed along with the details, features and cost to review.
The next day i made arrangements to meet the Agent and have a second viewing of the property, I had one more look around just to make sure and look a bit more in depth, on leaving we stopped at a local bar had a chat and after a little negotiating I made an offer, The next day I received an email that  my offer had been accepted! needless to say i was very happy.
From now on I was to learn about the buying process and how it differs to the UK. in part three i shall go through the process from the buyers prospective and what to expect / the stages from offer to completion.
Joshua.